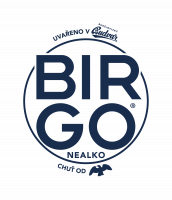 Flavour by Mattoni. Brewed in Budvar.
An irresistible connection of flavours and two iconic brands. This is BirGo, a mix of non-alcoholic beer from Budějovický Budvar and the best of fruit by Mattoni. A refreshment without preservatives, added colours and with a perfectly balanced B vitamin complex.
Go to BirGo website

Our Brands
We produce traditional natural mineral and spring waters as well as juices, snacks and soft drinks of world-renowned brands.